Within the first batch of models that HP will launch the market coinciding with the first weeks of the launch of Windows 8 (which will be released on October 26), there are some teams that particularly stand out. One is the HP Envy TouchSmart Ultrabook 4, a laptop that has a touch screen and that will allow you to measure in all its splendor the new environment that Microsoft has been prepared. At the moment we have no official data on the price or release date, but will be available before the end of the year.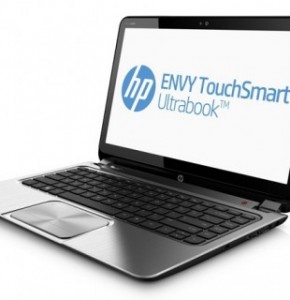 This device has a 14″ touch screen with LED backlit and a resolution of 1,366 x 768 pixels. The HP Envy TouchSmart Ultrabook 4 features an Intel Core i5-3317U processor of the third generation of Intel Core chips with two cores and a power of 1.7 GHz per core. With Turbo Boost 2.0 technology will achieve a power of 2.6 GHz and through Hyper-Threading technology can actually work as if we counted four cores. The basic configuration of this ultrabook has a 6GB RAM (expandable to 16 GB).
As is usual in most of the ultrabooks, graphics performance will be provided by the integrated graphics chip of Intel HD Graphics 4000, noted for its compatibility with DirectX 11 (used in many modern games). Moreover, the HP Envy TouchSmart Ultrabook uses a hybrid storage system that combines a 32 GB flash memory with a 500 GB hard disk. The operating system is stored in this first drive has boot speeds and faster disk access, while the 500 GB hard drive for storing a larger amount of information.
The HP Ultrabook incorporates the Beats Audio sound system, composed of two speakers and a subwoofer to provide good sound quality. One of the added that HP has included in the device is a package that allows Universal Music download up to 30 songs belonging to the producer and that offers unlimited streaming of the Universal catalog. The operating system integrated in the ultrabook will be Windows 8. This system will lead to the evolution from an interface based entirely on your desktop to a more typical of mobile devices.
Still, Microsoft has also incorporated several improvements to performance level as managing file transfers or new task manager. The design of this ultrabook remains modern lines through its metal finish and silver color. Its dimensions are 34.22 x 23.72 x 2.3 inches, a thickness slightly above what we're used to seeing in recent ultrabooks. The same goes for weight, which reaches 1.9 kilos.