HP has announced the availability of its HP Spectre x360. We are talking about a convertible ultrabook which has become the flagship of the firm in this segment and that, in the past, Mobile World Congress in Barcelona was awarded as the best notebook presented at the fair. From the point of view of design, the great strength of the device, we speak of a laptop built in a single piece of aluminum, which has a thickness of only 15.9mm at its thinnest part and 1.49kg of weight.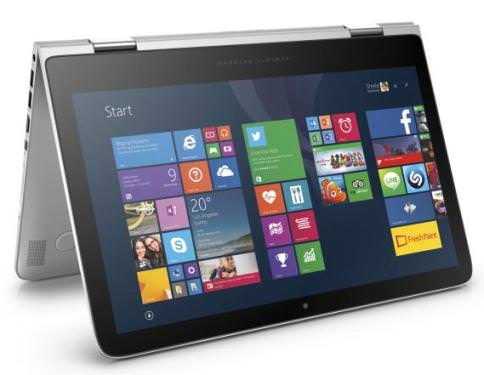 The sides are finished in polished metal, using a single machine cut in a process very similar to that used to design some pieces of jewelry, creating a natural finish in silver. In its interior, an enormous trackpad built in glass assures us a total independence of the mouse. It has also incorporated a new hinge system containing three spiral gears that aim to provide a natural movement and most synchronized and accurate as possible, since it will be able to rotate the screen 360 degrees.
The whole package comes as stated by Salvador Cayon, as an "authentic object of desire, like a jewel that you want to have" specially geared to lovers of good design. As HP has partnered in the presentation of the device with fashion designer Juan Duyos, which has created two series of jewelry inspired by the philosophy on which it has built this device.
From a purely technical perspective, The HP Spectre x360 is situated in the high part of HP solutions portfolio. It is a device capable of providing up to 12.5 hours of battery life, Quad HD touch screen (2,560 x 1,440), Intel Core i5/i7 processor and SSD storage from 128GB to 512GB depending on configuration.
From the point of view of the connectivity equipment includes three USB 3.0 ports, HP USB Sleep and Charge), HDMI and DisplayPort. Other interesting details are incorporating Wi-Fi connectivity in both the 2.4 GHz and 5 GHz, improving signal reception in saturated areas or the integration of Intel Wireless Display technology that it allows to realize streaming of contents towards smart TVs.
The new equipment is available from 1,099 euro. In addition HP has developed a professional version of the same device that includes options such as vPro technology, the possibility of having Windows 7 or Windows 8.1 Pro and support and guarantees the professional field-oriented. In this case, the starting price of the new Spectre is 1,249 euro.