They're on sale the new Surface 2 and Surface Pro 2, versions improved hardware and software of the line of tablets marketed under Microsoft brand.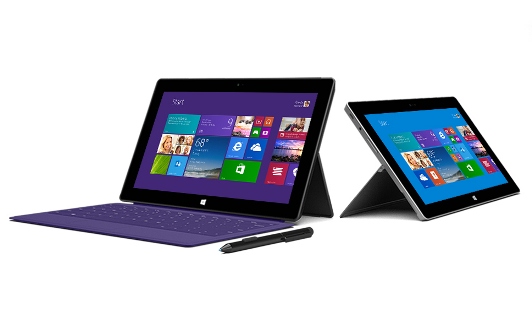 Prices are more content than expected. With two years warranty, Surface 2 from 429 euros in the version with 32GB and Surface Pro 2 from 879 euros to 64 Gbytes of storage capacity. They are available at the Microsoft Store and also in the retail channel.
Basically, Surface 2 improves the resolution of screen to Full HD multitouch keeping the size of 10.6 inches. An ARM Tegra 4 Soc NVIDIA replaces the original Tegra 3.
Regarding Surface Pro 2 updates its hardware based on a powerful Core i5 Haswell keeping size and resolution with 10 points of simultaneous contact (Surface 2 has 5), offering capabilities based solid state storage up to 512 Gbytes. Both are built under a VaporMg casing and feature optional accessories refurbished as new cases with keyboard and touch based.
Both offer good connectivity with Wi-Fi, BT 4.0, USB 3.0, microSDXC, GPS, dual cameras and the usual sensors: accelerometer, light and gyroscope, Surface Pro 2 includes stylus and we assume will end up becoming a version with support for mobile broadband.
It also updated operating system to Windows 8.1, RT and Pro respectively. Microsoft gives 200GB online storage on SkyDrive 2 for two years and unlimited calls to landlines with Skype for a year. Surface 2 as the original, also includes a copy of Microsoft Office Home and Student 2013 RT.
Do Surface 2 and Surface Pro 2 will increase sales on the first generation? Microsoft hope so with forecasts for 2014 of 25 million units shipped.