They have lately been appearing increasingly smaller computers with performance to an acceptable extent, just enough to remember the Raspberry Pi successful with just 256 MB RAM. With the advent and popularization of Android, this market has exploded and it is more common to see powerful mini computers the size of a USB memory as S21H that we are present below.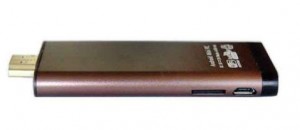 This curious gadget comes directly from China and boasts in its small interior to 2GB RAM, 8 GB internal storage and ARM Cortex-A9 dual core processor.
As you can see, specifications are similar to the current tablet standard or smartphone on the market, and also have WiFi and Bluetooth, but also integrate computer and all external ports such as USB 2.0, a microSD card slot and even HDMI output.
Its measures only 4 × 10 centimeters, carrying within it a tailored version of Android and that is incredibly Jelly Bean 4.1.2, so you can take advantage without problem to the specifications listed above.
The price of this little gem is $70, and the company already manufacturer would also working on a Linux version with the Ubuntu distribution, which would use Rockchip RK3066 processor and would become a powerful computer, small and affordable.