The web browsers war, which began in the personal computer in the mid-90s under the leadership of the defunct Netscape, is now at issue in mobile devices. The new stars of the mobile industry, which managed to capture the attention of users with their touchscreens at the expense of PC, became the new scenario of giants like Apple, Google and Microsoft, among others.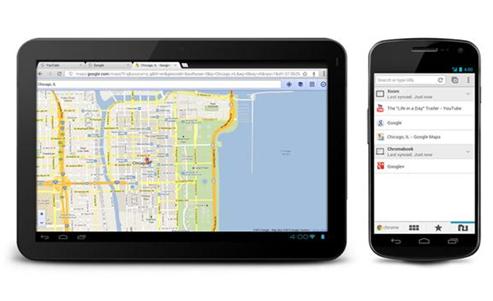 According to the ranking by Net Applications, Apple and Google's distribute the domain between the users of smartphones and tablets: Apple's Safari browser has a market share of 54.82 percent, followed by Android Browser, the native browser of the mobile operating system of Google, with 25.43 percent.
The podium back completes Google with its Chrome browser, with 9.7 percent, with a slow but steady growth. It went from computers to mobile devices, with separate versions for higher versions of Android 4 or iOS 6, and in its latest update, the Mountain View Company reduces by 50 percent the consumption data by management system and compression evaluating beta coming form over the last year.
In addition, Google offers this Chrome update for iOS users' automatic translation in the browser, along with a new function to create shortcuts to frequently used Web sites.
Pioneers browsers, experienced and the new mobile generation
The method of optimizing the use of data is not new: one of the proposals most used by mobile users is Opera, which according to Net Applications is located in the fourth, retreating before the advance of Chrome. Still, stays ahead of Internet Explorer from Microsoft, which owns 1.58 percent.
The Norwegian company is a pioneer in offering this service to optimize the use of data, and recently introduced Opera Max, which delegates the processing sites on their servers then send to mobile devices a reduced version of the web pages. So did Nokia with its Xpress Browser, a very good alternative option against Internet Explorer on phones with Windows Phone.
Some of the proposed sites for tablets and mobile browsers come with a background in personal computers: this is the case of Firefox, which has a version for Android. Others, meanwhile, took its place among the preferences of users of mobile devices to force of good performance, as it was the case with Dolphin, with smooth navigation, easy to use and manage tabs.