The Apple iMac 24-inch compact design is familiar to all, with a flat screen, processor and other components attached to a base, which is not exactly where it is now the heart of the iMac. However, the construction has changed dramatically.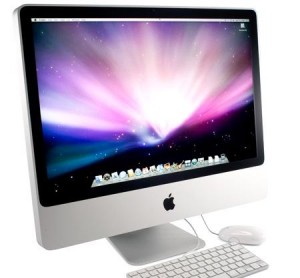 Instead of a white plastic and acrylic used so far, the new iMac is stored on a sheet of aluminum casting. Even the keyboard has been redesigned, although it is one of the aspects of design that recall the past of the iMac with a profile of four millimeters.
It has tested the 24-inch model, with a starting price of 1699 euros and includes a processor Intel Core 2 Duo 2.4 Ghz, 1GB of RAM and a 320GB hard drive.
The graphics card is an ATI Radeon HD2600 Pro with video memory of 256MB, which not the more advanced of the scale in terms of yield, but either the games have never been the center of Mac. It is of emphasizing the possibility of reproducing videos in high definition with resolution of 1080p.
The screen is good, when playing videos such as when playing or you are working thoroughly with the graphics card. No highly reflective, as we expected at the beginning, so it is not likely to be distracted when you are working with more mundane software, the version of Microsoft Office for Mac.
The unit also incorporates a good pair of speakers in the rear, its 24W amplifier and a remote to control the audio and video make it the ideal player. Along with the player, the iLife 08 suite enables you to watch your pictures and also manage your digital music from your couch.
Other features include a webcam, no less than five USB ports, two FireWire ports, and wireless Draft-N and Bluetooth 2.0.
As always, Apple takes care of the aesthetics and technology in equal parts and offers products that, despite seem uploaded price, and it offers a quality that is worth paying.