It is not for a long time that the projectors have turned into a device that has gone out of the professional environment to enter the homes, differing deals with large doses of connectivity, high lumens and low noise of others with common specifications.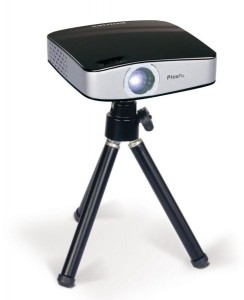 At first glance the Philips PicoPix 1430 is a smaller version of a standard projector, use an LED and LCoS technology (Liquid Crystal on Silicon) to project an image with a size of 80 inches at a distance of two meters. The interesting thing about the pico projectors is that it integrates battery, and the Philips PicoPix offer a range of more than two hours, plus the ability to play videos directly from USB drives or memory cards, which make it ideal devices to enjoy moving entertainment.
The 30 lumens offered by Philips PicoPix not be enough to see the images clearly surrounded by, and is likely to have to turn off the light, it will also be more difficult to adjust the image, but nothing so difficult for the other major advantages of this peak projector will become an alternative.
In terms of the connectivity of the Philips PicoPix 1430 highlight five connectors on the back, one of them is to connect it to the mains, another is a slot for SD/MMC, mini USB port, AV connector and VGA connector card. The latter two allow you to connect the pico projector to any source, a console, camcorder, DVD player, etc., but it must be done with some cables that Philips offers in a specific blister pack for your PicoPix. Finally, on the left side you can see a jack for connecting headphones and on the right side button on and off.
Other technical characteristics of this pico projector is its native resolution of 800×600 pixels, 500:1 contrast ratio, two internal speakers of 0.3 watts and weighing 290 grams, plus a bag that can be carried in the beak projector and 2GB of internal memory.
In the lower part of the Philips PicoPix there is a tab where you can raise the front part of the pico projector, although you can also use a tripod. The CJA is included one of only 15 inches, but you can obviously use a larger one.
As for handling, it is very intuitive. It can be done from the top of the projector or from a remote control. When you turn on the Philips PicoPix see a green screen with six icons (Videos, Origin, Image, Folder View, Music and Settings) and a battery indicator at the top. Regarding the configuration settings can be made on prevention image, sound, video, music, photography, etc…
Overall this is an easy product to utilize, very useful, both in the professional environment, allowing you to do a presentation stored on a USB stick, at home, to enjoy of a bit of entertainment, perhaps not in the classroom, but in other rooms of the house.