Starting next June, Belkin, one of the famous manufacturers of accessories-will have available a new range of accessories for use in the following Samsung mobile star: the Samsung Galaxy S3. This range of protective covers consists of different styles ranging from the most colorful up for outdoors activities. And their prices go from 13 to 20 euros.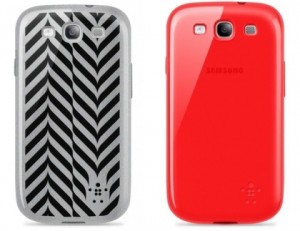 As was the case with the previous Samsung Galaxy S2, Belkin has already prepared its line of accessories for the Samsung Galaxy S3 recently introduced and will be available from the 29th May. In free format will cost 700 euros already from the 100 euros if you are able to get through a grant from Orange.
Meanwhile, Belkin is the first manufacturer who has already sees what their new range of accessories to dress the new Samsung Star mobile. For starters there is the Belkin Grip Sheer model, a flexible cover that will fit perfectly to the body of the Samsung Galaxy S3 has glossy finish and will be available for 13 euros in the following colors: black, ruby, fuchsia or reflection.
Meanwhile, if you want a fitted case in a pearl color will be available the model called Belkin Grip Glam, which as the name suggests, will have that touch of glamor. Its price is 18 euros and is only available in two colors: asphalt or magnetic.
Moreover, users who want a fitted case but with a good grip will call Belkin Grip Weave. Its design is made with a relief pattern and herringbone pattern that will help the user to the terminal does not slip through hands if they are sweaty or wet. This model will be one of the most expensive – 20 euros to be exact-and their colors are black or silver.
For cases that are sturdier and less flexibility than previous options, the case will call Belkin Shield. The colors available for this model will cost 20 euros to six: green, black, red, white, purple or gray. This will help achieve a perfect embodiment of the terminal. And its design is brilliant and totally opaque, so that nothing shows through smartphone design.
For most athletes' customers, Belkin also has a model available: is the sleeve/cuff named Belkin EaseFit Plus. It has an adjustable strap to all kinds of arms. Moreover, one of its features is that it also has a small pocket to store house keys while playing sports. It costs 20 euros and only available in one color scheme: black with lime.
Finally there are the models Belkin Shield Sheer and Belkin Shield Fade. With the first one, Belkin has a cover with a design similar to Belkin Shield model but with a translucent finish, at all times, the design of the smartphone. The price of this model is 18 euros and will be available in different colors: Asphalt, clear, green, pink or ruby.
For its part, the Belkin Shield Fade is designed with a double tone. The finish is bright and there will be two possible combinations: red and black or black and gray. The price of this case is 20 euros.