The company Google has just added a new feature to its video platform, which is in turn the most populous Internet platform. Today we have to talk about a new option that is available in beta and will see integrated into the YouTube video editor from now.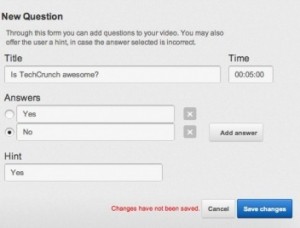 In fact, you will not have to wait any longer to try it. It is, as we said, of an option to improve the videos, but in this case it is a new section of questions. We explain. This is a new tool that allows us to integrate interactive questions that will be displayed on top of the video, right at the same time during playback. The interactive process culminates because the user – the spectator or the person who displays the video – you will have the option to answer it as if it were a simple test. The applications that you can have this new tool are multiple, diverse and always beneficial for the users of the video, whether as individuals or businesses.
First, it should be noted again that it is a new tool in beta, so that still may contain some errors or residuals. The editor is used, specifically, to configure multiple questions which will be during playback. To test the tool, you must click on the link Join The "Video Editor Questions" Beta, activating the service on your own. Logically, before clicking on this link will have to be logged in with your username and password.
Then, you can access one of your videos and select within the editing tools, Questions button, located at the end of the bar features, marked in dark gray. You will see that when an editor is activated to start introducing questions.
In the form (which is reproduced at the top) you will see that you can add the question and select the precise minute and second you want it to be displayed. The next step is to add the possible answers. For now you have two spaces, but you can expand the range of options by clicking on the Add response button. Finally, you will also have the chance to enter a suggestion. When finished, click on the Save Changes button and questions promptly appear during playback. Thanks to this new feature, publishers will have the opportunity to see the opinions of people who access their videos and can do so in a more rigorous way that reading the comments that often writes YouTube users to video stand.
For now, the feature is available, but can be renewed and updated at any time. In fact, YouTube has already warned that now integrated content could be eliminated at any time and without notice. Thus, the company intends to carry out a refinement of the tool, paying particular attention to the views of users, publishers can send feedback directly to those responsible for the platform.