The Denon AVR-2313 is an exciting multi-channel receiver that supplies RMS power output of 7 for 105 Watts. You can connect two subwoofers to the corresponding preamp outputs. It has six HDMI inputs, including one on the front, and two HDMI outputs, which can operate simultaneously.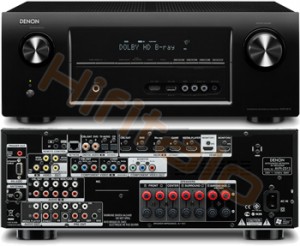 HDMI connections can transmit data when the computer is in standby mode, and even resize video up to 4K. And that's just one of the great strengths of the equipment. Rescale any source (analog or digital) not only to 1080, but to 4K (four times full HD). Besides, advanced formats can decode multichannel sound such as DTS-HD Master Audio, Dolby True-HD and Dolby Pro Logic IIz.
The Denon AVR-2313 has an auxiliary audio input in the front, where you can connect any portable audio player. Also on the front panel is the USB 2.0 port with direct playback capabilities of the music stored on a memory stick or a MP3 player. This USB port is compatible with an iPod or iPhone, both to read music and to recharge the Apple device. It has a feature that improves the quality of compressed music.
This is a multi-channel receiver capable of network communication, specifically through Ethernet. So you can access Internet radio stations, but also incorporates a radio tuner on FM. In addition, you can access other Internet services such as Flickr photos or the music in streaming of Spotity or Last.fm. It can also be part of home networks, in fact, you can play audio files and photos from computers and other devices that support DLNA 1.5. By the way, supports audio formats like FLAC HD quality.
The manufacturer has developed the habit of including Apple AirPlay wireless technology in their A/V receivers, the AVR-2313 and could not be less, so you can play streaming music collection of an iPad, an iPod, an iPhone or iTunes collection. Moreover, this Denon connectivity complete with two inputs and one component video output, four inputs and a composite video output, two optical digital audio inputs, two coaxial digital audio inputs, six analog audio inputs, outputs Speaker for 7 channels, pre-outs for 7.2 channel and a headphone output.
There is a free application for iOS and Android, called Denon Remote, which turns the smartphone into a full-touch remote control. Anyway, it comes equipped with a remote control quite clear, which provides a very quick selection of sources. At the base there are four colored buttons to quickly select the sound mode: movie, music, game or pure (direct source). It is easy to measure, thanks to the installation wizard with step by step instructions as graphs. Before you start, connect the supplied microphone to the device to perform a proper calibration, so that the sound suits the conditions of the room. The Denon AVR-2313 is available at a retail price of 1,000 euros.