Finally we will not see the Angry Birds in the enemy attacking green pigs, stars of the new game from Rovio, Bad Piggies. The game will be once more than physical and skill, a genre that the Finnish company knows how to work perfectly from the beginning with Angry Birds. The creators of this popular series of mobile games announced earlier this month the launch of this title, to reach both the App Store and Google Play on September 27, both in the form of payment as totally free.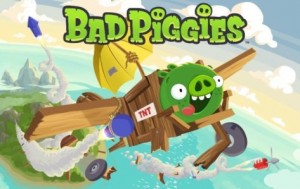 As the company said, players will see the Angry Birds universe "through the eyes of pigs", but with a proposal based on different physical games. Pigs still want to be with angry birds eggs, but this time will use vehicles built with the same materials as their structures. This is a game with a few pigs less passive than in the Angry Birds saga, because now they will at the controls of different prototypes which we believe to be made with the precious eggs.
The game system is based on two stages for each level: vehicle construction and improvement of the level. The first is the key to complete each level, because we have to create a vehicle that will use the pigs to reach the Angry Birds eggs, from the pieces that allow the level and condition of the terrain. The other phase is less creative but equally challenging, as you have to take the vehicle to the goal, avoiding all the obstacles that appear, and caring for the integrity of the vehicle or our driver will be removed.
Among the items you can use to create new vehicle are also the main elements (wood, glass and stone), find dozens of useful components to our invention avoid any obstacle or even go through the air. Thus have elements like helices, engines, wheels, balloons, engines and many other items. We will use them to demand the level, always shuts the scenario in which we find ourselves allows us to do so.
The most important part of this game is that the player has creativity, allowing us to complete the levels with thousands of different options, as there will be a single optimal solution for this game, although we will see solutions with similar patterns, to be the creation of the vehicle limited parts available. Also rarely repeat the design of a car, an airplane or a helicopter, as the needs of each scenario will change completely in each scenario, and even have to build many prototypes until we find the solution, not to mention those players who wish the three stars of each.