The greatest frustration for every internet user is losing a data. Have you ever inadvertently deleted an important file or thinking you didn't need it anymore? Fortunately, file recovery software is coming your way! Consider EaseUS Data Recovery Wizard as your knight of shining armor coming to the rescue.
About data recovery wizard
Downloading the program of this user-friendly software is easy and takes only a minute to install. Other options are used like the self-explanatory – create desktop icon. Wizard is also available for Windows and Mac. The Windows version easily and quickly recovers lost files. After installation, your data recovery software opens immediately as long as you have launched your option for EaseUS Data Recovery Wizard.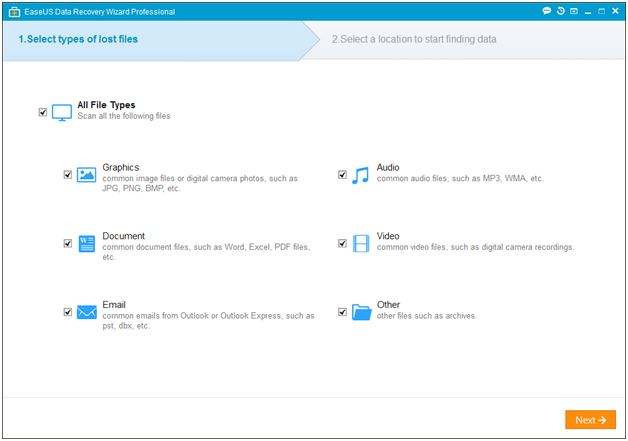 3 steps to recover your lost data
Step 1. Launch
After launching EaseUS Data Recovery Wizard, opt for the type of file you intend to recover. Then tap the "Next" button and proceed to the 2nd step.
Step 2. Scan
Find the disk where your data was lost then click "Scan" button. File recovery software will scan the selected disk to search through all your target files. If partition is lost, go to "Lost Disk Drives" and "Scan" while sustaining the process of recovery.
Step 3. Recover
After thorough scanning, preview all the recoverable files listed individually and get what you want. Proceed to click button marked, "Recover" to retrieve them at once. Save on another disk all the recovered files to avoid overwhelming data.
Never save recovered files on partition or drive where you lost them!
Advantages
Files are recovered using: modes Basic "quick scan" and further "deep scan". Be sure to get all lost data you recovered at amazing fast speed.
You can apply different loss situations and support all sorts of file types. Safe file recovery software takes care of: deleted emails, documents, email formatting, lost photos, music, partition loss, system crash, video, virus attack, etc.
Before recovery make a clear preview to guarantee successful recovery. By means of previewing the files that you expect to restore, you will know if it is there and make a successful data recovery result.
Whenever necessary, make use of results from import and export scanning. There is flexibility in resuming recovery next time without rescanning when importing scanning results were already saved before.
To restore deleted files from hard drive
Use Window recycle bin to recover deleted files

If data is lost by removing it to Recycle Bin and the bin has not been emptied, just go there and select them. Tight-click and choose Restore.

Use your backups to recover files

Using your back up hard drive regularly is a good habit. If data is lost, all you need is to utilize backup program and restore lost files.

Deleted files are recovered with file data recovery software

If there is no backup and not found in the recycle bin, you'll need free data recovery software – EaseUS Data Recovery Wizard. This is a good and easy recovery tool that retrieves deleted files from hard drive. It is also applicable to a number of data loss situations from format recovery, raw hard drive, system crash, virus attack and more.