With change in time and technology people have started saving all the information on computers, laptop etc. Now all the things and information are on systems for example pictures, documents, songs and movies etc. Many of people don't regularly take backup of files so creating online backup is a blessing for all of us. By creating online backup of important documents prepares the user for the worst.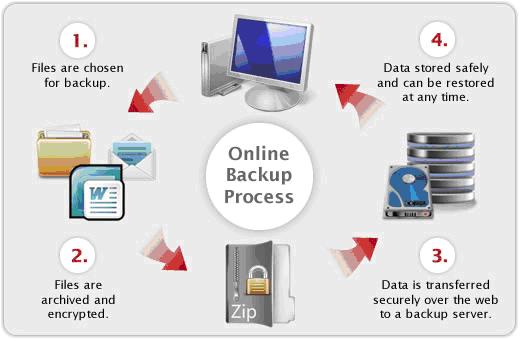 If hard drive fails the computer user has access to data on a click of mouse. Now when the data is stored online even if the computer crashes the user does not have anything to worry about.
Online backup of data saves the user time and also need to burn the cd which may get damaged in due course of time. These services are very easy for any user to access.
There are several reasons for which we should save our documents online:
Viruses: Since computers and systems are prone to viruses keeping backup of all the files online helps the user to deal with the viruses.
Computer Crash: Computers can crash and hence it's essential to create backup of the data.
Safe and Secure: Saving the data online is safe and secure for the users. Some websites provide the services in which no one can access the data saved by some other user.
User feasibility: The online backup of files can be tailored according to the user, only the data the user wants to save.
Recovery is easy: If the data is lost, the data saved online can be recovered easily.
Loss can be reduced: In case of any losses the data can be instantly restored without causing business any loss.
Mobile access: Many service providers provide application to access the data anywhere on mobile.
Constant help: The user has various options if faced with any difficulty like user manuals, live chat etc.
Space: An online service offers various plans to choose from and with variety of storage space. For the same they provide backup space by paying small amount of fee.
Backup of data online makes the user safe from unforeseen circumstances. Businesses of all size are prone to threats and by creating backup of all the important data we make us prepared for future threats if any.
While creating online backup of data the user should be sure of the website in which data is stored.
So when the user decides to create online backup he ensures that his data remains safe even if his system crashes. It gives an excellent way to save the user's important data. This service provides 24 hours access to the important data. Storing the data online is a real alternative to save the data. With the increasing demand of the same many companies are providing the paid services for the same.
With so many options available online and offline the user has to be smart which service to go for.