As from November, Apple will launch its new iMac and new Mac Mini. The device is more beautiful, thinner, more powerful, but also more expensive than the previous generation.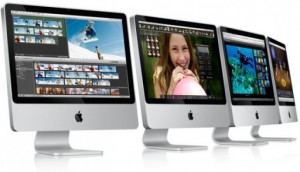 Much thinner than the old, the new iMac enjoys a nice LCD screen (IPS) to LED backlight of 21.5 or 27 inch offering 75% of glare in less.
The performance should also be higher than previous models thanks to the integration of the new Intel Core i5 (2.7 to 3.2 GHz) or i7 (3.4 GHz) and Nvidia GeForce graphics processors based on the architecture Kepler.
As for storage, it will be hard drives ranging from 1 to 3 TB with the possibility, on the 27-inch iMac, to integrate 768GB SSD. The menu also has a new option called Fusion Drive storage which stores the frequently used data on flash memory and transfers the rest to conventional hard disk.
We also find WiFi N, Bluetooth 4.0, 720p HD webcam, 4 USB 3.0 ports, an SDXC card reader (on the rear), a Gigabit Ethernet port, two Thunderbolt ports and a headphone output. It will be delivered with the Magic Mouse or Magic Trackpad wireless and OS X Mountain Lion as an OS.
Do you know to take a screenshot on your new iMac yet? Take a look at this following step-by-step guide to learn how to Print Screen on Mac.
If you have any further questions about this built-in function in Mac OS X, please leave your comment below.