The manufacturer Nissan Motor announced the launch in August its first driverless car, the first range media with this type of system and the most comprehensive to date, according to the company.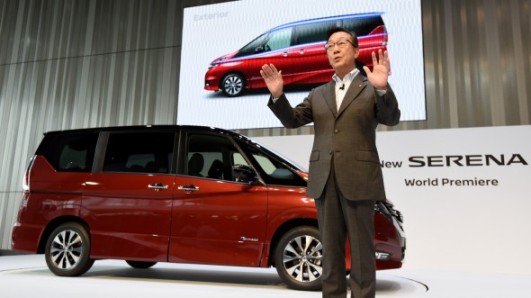 The firm revealed in the global presentation of the new generation of its Serena model the ProPilot technology, which through a single front camera and various sensors detects the movement of the vehicle in front of it and, according to the same one, without the intervention of the driver, it accelerates, brakes and even stops.
Through this system, Nissan aims to reduce the number of traffic accidents "up to zero", said Tetsuya Iijima, Development department of the company, during his speech at the event held in Yokosuka (south of Tokyo).
The software recognizes a risk on the road that the person behind the wheel has been overlooked and alerts you through audible and visual warnings, reducing the possibility of an accident.
"The 93 percent accidents are caused by human error", explained Iijima, who announced that with this technology the Japanese house aims to "overcome" the negative aspects of vehicles, such as those aforementioned claims or traffic jams.
The fifth generation Serena model, an eight-seater minivan, will be available in Japan starting next August with a cost of three million yen (26,000 euros/28 thousand 800 dollars).
Nissan plans to introduce PROPILOT models for Europe and other markets from 2017, although it will be substantially different systems because it will adapt to the laws of each country – for example, the speed limit in Japan is 110 km/hour, according to Kiwamu Aoyanagi, engineer of the firm.
At the moment, this autonomous driving program can only be used on roads or highways of one-way traffic, although Nissan foresees that it may be used in a two-way from 2018 and in urban areas in 2020.
The death earlier this month of the driver of a Tesla model equipped with autopilot technology has led to a debate about the safety of these vehicles. In this sense, Nissan stressed that its technology is "an assistant for driver", but does not replace it, and one must be alert to both the road and the steering wheel. In fact, one of the alarms is turned on if the steering wheel sensors detect that the driver is not touching it during several seconds.
With the implementation in the vehicles of this technology, the manufacturer aims to "reduce the stress" of the driver, that pressing the button that activates the PROPILOT system may drink water, consult a map or simply observe the landscape while driving without fear to suffer a collision.