One of the main obstacles facing the user feels seduced by moving from Windows to Mac is in the very fact of losing some of the familiar features and applications that the system has Microsoft.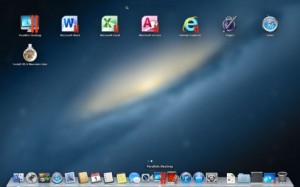 However, for several generations of Apple hardware, these computers allow, on the one hand, the installation of additional systems using dual-boot with the Boot Camp – or, as in the present case, using virtual machines installed on the Mac. Parallels Desktop software is the best known in this respect, and with Parallels Desktop 8 arrived to its latest version.
Parallels Desktop 8, which is available for Mac OS X 10.6.8 and higher prices by between 50 to 80 euros, depending on whether you acquired the upgrade package from Parallels Desktop 6 or downloaded directly entire program – includes many improvements over the previous edition, most of which have been optimized to take full advantage of Mac OS X Lion Mountain, the latest system for Apple computers and its coordination with the version of Windows that we install. However, Windows 8 is Microsoft's platform that best takes with Parallels Desktop 8.
In performance, improvements in Parallels Desktop 8 are more than palpable. The operation of this application is based on what are called virtual machines. Once you install the program on your Mac, we can define the creation of these machines, which for practical purposes; assume the installation of computers in our equipment. With Parallels Desktop 8, the speed of these machines, which based its operation in loans of the configuration of our Mac – grows 25 percent, approximately. In practice, this means 30 percent more power in us to deliver graphics performance from virtualized Windows and 30 percent more power in the processes that develop from the Microsoft platform.
One of the great attractions of Parallels Desktop 8 is precisely the option of enjoying some features of Lion Mountain, the most advanced system of Apple, which last week joined with version 10.8.2, new integration options-from Windows. Especially interesting is the natural voice of Mac OS X for dictation. The center of notifications of Mac – a loan that Apple leads from their mobile devices to the computers in the house – also launching ads in Windows, and you can even drag files from native applications to each other. For example, if the platform for Apple we have configured our e-mail accounts on the mail program, and Windows have done the same in Outlook, we could take emails from one application to another application by dragging.
AND is that with Parallels Desktop 8 we have the option to make Windows run at full screen, or keep it in a popup window that allows us to share data between the two systems with only passing documents, videos, images or songs from one side to another. Another new feature of Parallels Desktop 8 is offering native support for MacBook Pro laptops that were recently on sale with Retina display resolution. If you are new to using Parallels Desktop 8 not worry: the application itself installs a series of video tutorials with the release in this interesting and useful system virtualization environment will be a breeze for any of the neophytes who encouraged using this program.