Ultrabooks are laptops that have more pull in recent times. The Japanese manufacturer has just expanded its range of this type of machines with the new Toshiba Satellite U940.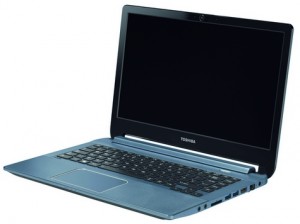 It is a lightweight high performance computer with a screen of 14 inches (35.6 centimeters). It weighs about 1.65 kilograms, depending on the chosen final configuration. It is quite thin, it measures just over two inches thick. The QWERTY keyboard will be accompanied by a touchpad and there is still plenty of room for the palm rest.
The 14-inch screen has a LCD display with LED backlight type Clear Super View and offers a resolution of 1,366 by 768 pixels. Just above the screen is the 1-megapixel webcam for video calls over the Internet or to record videos. The graphics card available is an Intel HD 4000. As for processors, all are Intel's third generation, specially designed for installation on netbooks.
The DDR3 RAM at 1600 MHz type may have a capacity from 4 GB to 16 GB, as desired by the buyer. To improve starting and provide quick access to the most commonly used applications, the manufacturer has put a solid state drive (SSD) of 32 GB, which is accompanied by a SATA HDD 2.5 inch which can have a maximum capacity of 750 GB. This Toshiba ultrabook shipped with the operating system Windows 8 of 64-bit preinstalled.
The Toshiba Satellite U940 integrates two stereo speakers and offers sound SRS Premium 3D, which creates a surround with only two speakers. In the chapter of the connectivity include the card slot for SD type memory and two USB 3.0 ports, both with ability to recharge external devices even when the computer is off. To this we must add an HDMI digital video output, allowing you to enjoy movies on a full HD TV using the cable. In addition, the manufacturer has incorporated a wireless technology called WiDi or Wireless Display, used to send videos with 1080p resolution and 5.1-channel surround sound without any wires to a monitor or compatible TV.
Nor could it be missing other connections in the usual portable machines, such as a USB 2.0 port, a headphone output and an input for an external microphone, both with minijack connector (3.5mm). You can connect to the Internet and other networks for both Ethernet and Wi-Fi, which is of the specifications 802.11 b/g/n). Its wireless communication capabilities are complemented by Bluetooth 4.0. Its dimensions are 339.8 and 20.9 by 238.3 millimeters.