Samsung has introduced its new concept of soundbar, the HW-F850. It is an ideal model to combine with the most modern 60″ LED TVs.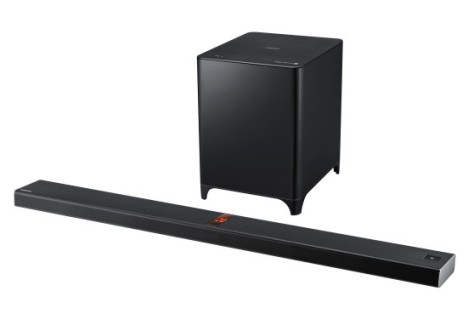 It has with NFC technology, allowing linked to any device that has this wireless communication technology, as the most modern Smartphones and Tablets. In addition, if an older device it is also no problem since can connect via Bluetooth too, thanks to Soundshare technology, which also provided.
Give a warm sound thanks to the vacuum tubes leading integrated, with a total of 350W RMS power, enriching the music listening experience, thanks to an impressive sense of immersion it provides. The frequency response range is from 20Hz to 20kHz.
We have an ideal solution to eliminate cables between TV and subwoofer or the satellite speakers with wireless connectivity for its components. The bar comes ready to hang on the wall, instead of having to place it in front of the TV. Automatically detects the position of the speaker, thanks to a sensor that is internal and can calibrate the sound according to the guidance for perfect acoustics.