In addition to hybrids and tablets, Windows 8 will reach the market to give greater meaning to these all-in-one desktop that from Windows 7 want to have special role at home with a touch screen as an ally.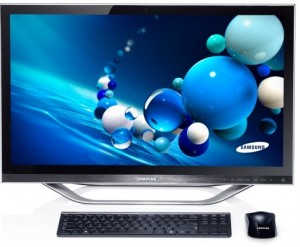 The new Samsung Series 7 AIO PC computers are all in one place that the Koreans want to fit in our house in the hand of Windows 8 hand and fingers and gestures to control key.
Samsung Series 7 AIO PC with two screen sizes
The Samsung saga Series 7 AIO PC premieres in Berlin with two models to choose from. The more restrained offers a 23.6-inch screen with 1080p resolution and technology 10-point touch capacitive. The same technology is used in the 27-inch model, which in this case raises the resolution up to 2560 × 1440 pixels and a brightness of 300 nits. A little less, 250 nits, brightness is assigned to small family. In the interior features are very well shared, with small differences in power.
Both Samsung models Series 7 AIO PC features the latest Intel processors (Core i7 maximum for 27-inch, and Core i5 for small one), up to 8 GB of RAM, AMD Radeon HD 7850M graphics, integrated speakers, high definition webcam and hard drives reaching 1TB and in the case of the upper model, can be added a SSD memory up to 64GB as a complement.
Connectivity is starring five USB 3.0 ports, HDMI output and input, Ethernet, Wifi, TV tuner and Blu-Ray in the case of the 27-inch model.
Use fingers and gestures to control Windows 8
Looking to the management of these Samsung Series 7 AIO PC more intuitive for the whole family, the Koreans have placed a capacitive touch screen in which you can make gestures. What we have forgotten is that the screen could be folded in a way to pass in full tablet mode.
These ten possible points of contact with the screens of 23 or 27 inches let the consumer make the same pinching zoom, rotate with a rotation gesture or go by scrolling through pages with only the help of your finger.
But to complete the experience, Samsung has also included gesture control. Thus, you can control some functions of the computer with five predefined gestures as slide a hand to the left or right to move the pages of a book or click closing the hand. We'll see if this is just an anecdote or the user takes advantage of it.