Skype is integrated gradually into the Microsoft ecosystem… Just like what the company has done with the brand name "Xbox", Microsoft does everything to make Skype application is "Messenger, but also the service calls online.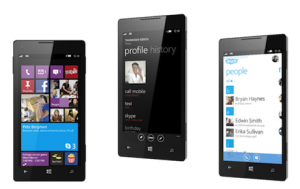 To do this, Microsoft has provided Windows 8 with Skype application review and redesigned in order to become a key application in the operating system, and it will soon be the same optical for Windows Phone 8, the mobile OS from the firm.
Derek Snyder, the person in charge of Skype marketing for the mobiles, announced earlier this week in the preview version of Skype is now available for Windows Phone 8. It contains all databases that Skype users should expect, and of course comes with a new design, "modern". The app also includes the integration of Windows Live Messenger accounts, which must merge within Skype.
During the event dedicated to Windows Phone 8, Microsoft said that the new version of Skype would be able to run in the background without taking resource. Snyder says the preview part of the application, such as calls and messages, can be done even when it is not running.
Snyder also says that Skype for Windows Phone 8 will have some unique features never before seen on smartphones. These include:
Stay always reachable: With Skype for Windows Phone 8, you are still part of a conversation. You'll stay connected even when the application is closed.
Easy to use: Developed from scratch, this is the best that Skype and Windows Phone 8 have to offer.
Contacts brought hand: Start a chat with your Skype contacts directly from tile "Contacts" and follow the new posts through "Live Tiles".
In all reality, the features disclosed above are only possible on Windows Phone 8, at least for the moment, thanks to the characteristics that define the mobile operating system from Microsoft, unlike iOS and Android. After this development, maybe the team can begin to rethink Skype mobile experience for iOS and Android users who have resorted to what is essentially a smaller form of the old Skype application available for the desktop version.