SMC, expert in networking for the home, takes time expanding its offering to the WiFi N specification, and SMC7904WBRAS-N router not only complies with this version of wireless technology, it offers four Ethernet ports for those who want to keep the wiring options.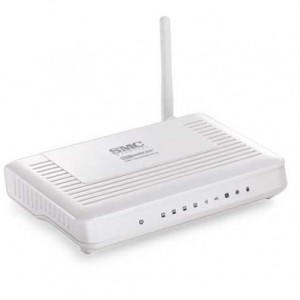 One of the most important aspects of SMC7904WBRAS, shared with the other company's products is its ease of installation. First the user must plug the end of the telephone cable to the DSL port and press the ON/OFF switch on the back of the device. After connecting a network cable to the computer and restart it, will have access to a URL and follow a series of very simple and intuitive instructions to complete the installation.
The computer will have to return to restart and ready, all you have to navigate without problems. A small button located on the back is the one that activates the WiFi if the user also likes to take advantage of this form of connectivity, without stop working the four Ethernet ports.
The SMC7904WBRAS-N modem router is compatible with ADSL2/2+ and therefore is able to provide access to high-performance Internet with download speeds up to 24Mbps. This speed allows you to make use of multimedia streaming without losing quality and without cuts. Really with speeds up to 300Mbps and wireless coverage up to 11x, has enough bandwidth to simultaneously stream video and audio, handle online games, transfer large files, make VoIP (Voice over IP) and Internet browsing.
In short, SMC7904WBRAS-N access point offers 150Mbps WiFi N and a four-port Ethernet switch, so users will find it easy to share Internet connections, both via cable and via wireless technology.