Sony has unveiled its new headphones under the name Sony MDR-XB910. These are high-end headphones that will sound with high fidelity and has a sleek modern design.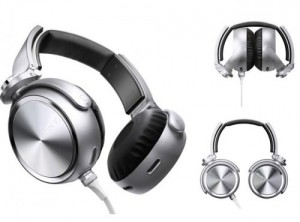 The Sony MDR-XB910, manage to give us a clean and deep sound; the serious, even make headphones come to vibrate as its have feature a technology called Adavanced Direct Vibe Structure, which achieves more powerful subwoofer, deep and intense, and have a spectacular treble definition.
Without a doubt, it's a headset getting to have such high quality that it will seem that we listen live music.
The headphone also has extreme quality design, and has beautiful details of aluminum. But that is not all, is a very functional headset, designed to always carry them where we want in a way comfortable since it can fold and store in any small space.
These are technical specifications that Sony introduces us to these headphones:
Type: Closed, dynamic
Capacity (MW): 3000mW
Diaphragm unit (mm): 50mm, dome type
Impedance (Ohm): 24Ω at 1kHz
Sensitivity (dB/mW): 106 dB/mW
Weight (g): 305 grams (without cable)
Cable length: 1.2 meters
The pack includes: connection cable, microphone cable and remote control.
For the information we have, this product will be released approximately in April for a price around 200 euros.