Western Digital has decided to strengthen its bid for the storage of small and medium enterprises with the inclusion of a new configuration of the WD Sentinel DX4000 with 16 TB capacities. This model joins the previous deals of 4TB, 6TB, 8TB and 12TB.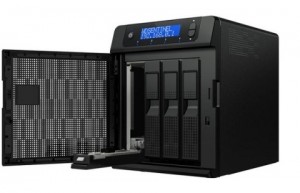 The company's equipment is designed to function as a storage server with up to 25 different teams of the company and can also be used to make backup copies of important files. The new configuration of the WD Sentinel DX4000 is now available for a price of 2,500 euros.
The storage server of Western Digital comes with four slots for four hard drives up to 4 TB (which form the more advanced configuration of 16 TB). To carry out its tasks, the Western Digital DX4000 features an Intel Atom D525 dual core with a power of 1.8 GHz (thanks to Hyper-Threading technology can work with four processing threads). This adds up to 2 GB of RAM.
The server uses the operating system Windows Storage Server 2008 R2 to operate, and provides support for both customers with Windows (Windows XP, Windows Vista and Windows 7) as for customers with the operating system Mac OS X. For enhanced data protection, you can configure the hard drives with RAID 5. With this configuration, the data can be maintained even if one hard disk fails, yes, sacrificing a fifth of the space available.
To facilitate faster transfer of data, the WD Sentinel DX4000 server has two Gigabit Ethernet ports and two USB 3.0 ports (protocol supports data transfer speeds ten times higher than USB 2.0). One advantage of this server is that it is designed to allow professionals to access the data on the server from a web platform.
Furthermore, Western Digital joined a few months ago the backup service in the KeepVault cloud within the control panel of the device. With this service we can increase data protection, offering a complete restoration service data if a disaster occurs. However, to hire the service will have to make an extra monthly payment. Out of this additional service, the Western Digital Sentinel DX4000 server can generate automatic daily backups of our data.
In addition, it is designed for small office environments thanks to its compact dimensions of 20.6 x 22.4 x 16 inches and weighs 6.35 kilos. Regarding prices WD Sentinel DX4000 server, are 980 euros for the 4 TB version, 1,080 euros for the version of 6 TB, 1,370 euros for the version of 8 TB, 1,570 euros for 12 TB model and 2,500 euros for the new configuration of 16 TB.