Many would like to have a multichannel receiver like this in our living room. The Yamaha RX-V673 looks wonderfully all sources, even if it is analog. It can handle the most advanced video. In fact, it is compatible with 4K (equivalent to four times the resolution of Full HD).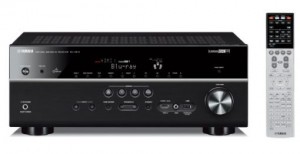 In addition, as of now there is a shortage of content with as high resolution, this equipment can rescale any source to 4K, either through its analog inputs or HDMI. For those who still do not have the luck of having a 4 K TV at home, you can scale to 1080p video. Its HDMI connections, not only compatible with stereoscopic three-dimensional (3D), but also carry a 24p and lead an audio return channel.
Incorporates six inputs and one output HMDI; one of the entries is in the front, for greater comfort. Also, just to be in standby mode that enables the transmission of signals through HDMI, in addition to the remote control you can select the corresponding source (Blu-ray player or games console, for example). It thus saves energy. On the other hand, it has several features to enhance movie dialog and adjust the levels. Also, the compensation for the lip-synching of the characters that come out on the screen with the audio can be set in milliseconds. This is useful with the TV series and movies from the file-sharing networks.
The Yamaha RX-V673 is an A/V amplifier for 7.1 channels that integrates a radio tuner in FM and AM. It provides RMS output power of 7 to 90 watts. You can work with the surround sound formats more modern as Dolby TrueHD, Dolby Digital Plus, Dolby Pro Logic IIx, and DTS-HD Master Audio. It also has a function of improving quality for compressed music in MP3 format. It has an audio output for a second zone of the house. When Zone 2 is off, all channels are used in the main area. However, when Zone 2 is on, the main area keeps 5.1 channels.
The USB port that presents in the front allows you to play audio from a memory stick or a MP3 player, but it is also compatible with iPhone, iPod or iPad. While Apple's device is connected, the battery recharges, and appears on the screen of the song title. Besides, this Yamaha team includes Apple AirPlay technology, which lets you play and wirelessly streaming music from iTunes.
The network communication capabilities of this Yamaha do not end there, because it has a Ethernet port. So, you can access Internet radio stations. Also, you can play media from a computer.
Connectivity is complete with two inputs and one component video output, five inputs and one composite video output, two optical digital audio inputs, two coaxial digital audio inputs, four inputs and one analog audio output, pre-amp output for subwoofer and a headphone output. The retail price of the Yamaha RX-V673 is 689 euros.