Developed by the creators of the Russian social network VKontakte, promises controversy safe and open source platform that aims to compete with WhatsApp and BlackBerry Messenger.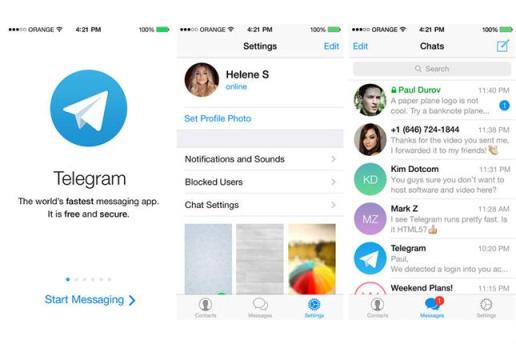 A segment composed of several opponents of different weight, the world of instant messaging adds a new competitor with Telegram Service featuring applications available for iOS devices from Apple and Google's Android (with unofficial versions for other platforms like Windows Phone, Windows, OS X or Chrome).
Like other mobile chat services, allowing text talks with other users, in addition to file sharing. But according to its creators the differential is that it bases its proposal on an open source platform and has a robust security system.
Behind Telegram are two Russian entrepreneurs, Pavel and Nikolai Durov, responsible for the second largest social network in Europe, VKontakte. Submitted in October last year, the mobile instant messaging service promises a quick and distributed worldwide servers, free and secure, platform with encrypted messages that can self-destruct, secret conversations, send files and others, based on a protocol called MTProto, developed by Nikolai Durov.
It is not the first open source chat service; Jabber exists many years ago with a similar proposal, but not so much emphasis on the part of security and privacy.
Telegram creators boast of their security by providing $200,000 bitcoins for developers who achieve break the encryption protocol used on the platform. However, there were some tests that cast doubt on the invulnerability of the service, according to various reports.
It has application programming interface (API) that allows developers to create their own versions and special programs that interact with the Telegram platform. Thus, the chat can have different versions that go beyond those available on iOS and Android.
It is the great moment of Telegram, which ranks as one of the most downloaded applications in the Apple App Store and the Google Play store. That does not mean to be one of the most widely used, by the way: at this point WhatsApp guarantees that a traffic of 18 billion messages per day.
However, that does not stop Telegram call the attention of mobile users. Its creators aim to differentiate the main service segment, WhatsApp, with 400 million users. "It's based in the cloud, messages are available from any device, including a PC, and allow the transfers of any type of files. In addition, it will always be free, without subscription or advertising", detailing their founders in frequently asked questions and answers.
Also, the emphasis on safety Telegram aims not only to WhatsApp and other messaging services like Snapchat who had committed their platforms, but seeks to challenge BlackBerry Messenger, mobile chat platform with long experience in this segment, and the best reputation for safety. In recently, the Canadian company expanded its reach with individual versions of the app for iPhone and Android devices.