Developed with Lego bricks and equipped with a Samsung Galaxy S4 as brain, CubeStormer 3 resolved in 3.253 seconds and improved its previous record of 5.5 seconds, recorded in 2011.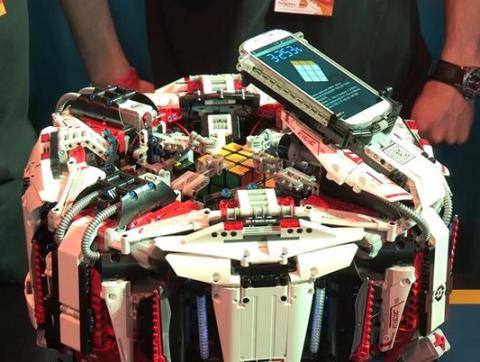 The CubeStormer 3 robot, developed with lego bricks and equipped with a smartphone camera, managed to overcome their own brand to solve the Rubik cube in 3.253 seconds. So prior, chipmaker ARM recorded a mark of 5.5 seconds in 2011, which was matched by the Dutch Mats Valk two years later, recording a 5.55 seconds and consecrated as the fastest human in the end this particular challenge.
Equipped with Lego Mindstorms, a kit that allows development of a robot in a home, engineers David Gilday and Mike Dobson used camera Samsung Galaxy S4 to overcome the earlier mark. Thus, the developed software analyzes the nature and calculates the correct sequence that is sent to the four robotic hands of the Cubestormer 3.
This development, driven by the ARM chip manufacturer, was presented at the Big Bang Fair show to be held in the city of Birmingham, and the brand was highlighted by the Guinness World Records.