Acer has decided to extend its range of "all-in-one" with the Aspire ZC-605, specially designed to improve the user's multimedia enjoyment and performance computing tasks in the home. Easy to use and plenty of storage, will be available in the market starting next September.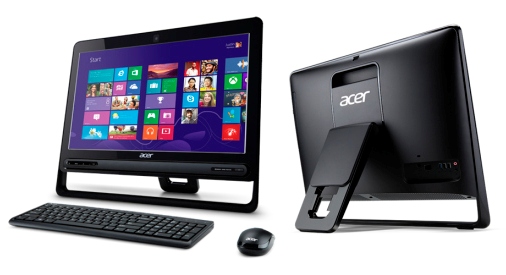 Its thick bezel framing the screen, as likes a photo. In this way the images and videos look museum pieces. Another notable feature ergonomics: by adjusting recline between 10º and 30º is achieved the most comfortable position regardless of the task (watching a movie, playing a game or working). The HD webcam is also adjustable, allowing you to be sitting, standing or lying down and continue chatting comfortably.
It incorporates the Acer Aspire ZC-605 capsule-shaped speakers and Bay ports. It seems that the speakers are suspended in the air, as they are slightly elevated relative to the surface of the equipment. The important thing is not its visual effect, but it emphasizes the quality of the sound. The most commonly used ports such as USB 3.0, are grouped in a capsule for the user to access data quickly and easily, to listen to music or turn the monitor off when unused. ZC-605 stand presents hooks that make it possible to lay the cables.
With 19.5-inch HD display, Dolby Home Theater v4 surround sound, these computers use Intel processors along with the best graphics solutions and up to 16GB memory. The goal is to withstand the most demanding tasks smoothly and at the same time ensure entertainment. The ZC-605 include AcerCloud, to share music, pictures, videos and documents with other PC devices, no matter where it is. While the PC is plugged in and in sleep mode, AcerCloud may activate the computer from any site to access the multimedia content.