After the HP Chromebook 14, comes the Acer Chromebook C720, another model of the new generation of portable cloud with Google Chrome OS operating system intended to challenge the PC sector weakness.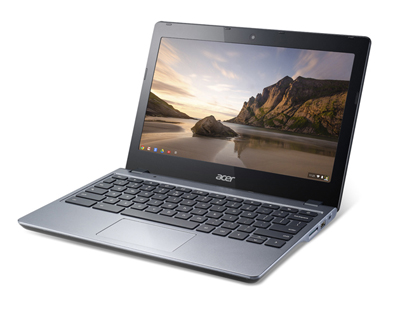 As the model of HP, Acer has improved hardware base Chromebook C720 with Intel's Haswell processors, namely Celeron 2955U dual-core. In addition, the Taiwanese firm has redesigned the equipment to make it thinner and lighter, while increasing autonomy to some estimable 8.5 hours.
The Acer C720 Chromebook keeps the 11.6-inch display with resolution of 1366 x 768 pixels. Includes 2GB RAM based and solid-state drive of 16 Gbytes supplemented by 100GB of free storage cloud under Google Drive.
The Chromebook C720 price is $199, spectacular and within reach of every pocket. Perfect as second or first device for Internet, multimedia playback and basic office, it's no wonder they are selling very, very well in regions like the United States and in an era of layer fall in the PC market.