The Acer S271HL is a monitor of elegant design that also occupies little space on the desktop, and that has a diagonal of 27 inches and is panoramic. It has the advantage that the user will be able to have multiple applications open at once in parallel, and you can see them all perfectly. The frame, black finish, is quite narrow, but the best is the thickness of the screen: just 2.4 inches.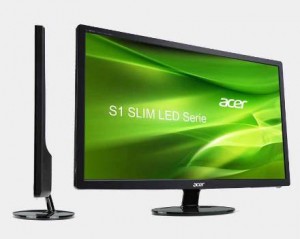 The shape of the foot tilted contributes to that can be placed even on those desks with little background desktops available. This is a monitor with a LCD backlit panel by LEDs offering a Full HD resolution (1,920 by 1,080 pixels). The LED backlight helps reduce the consumption of electricity. In fact, the whole series of manufacturer-S belonging to this model-has energy saving technologies.
This Acer monitor is able to reproduce 16.7 million colors and has a pixel size of 0.3114 mm. The LCD panel has received anti-glare treatment and maximum refresh rate is 60 Hz. Moreover, the brightness reaches 250 candelas per square meter, while the native contrast is 1000:1. The manufacturer has a technology that manages the contrast and match the type of scene, whether dark or light. Displays sharp images with vivid colors and filled with details.
The response speed of the panel, by the way, is 5 milliseconds, a detail that fans will appreciate the practice games and those who use their computers to watch action movies. This monitor does not have speakers. It has a VGA, a DVI input and HDMI (with copy protection system). To this we must add a line output.
The viewing angle of this display is 176 degrees horizontally and 170 degrees vertically.