Acer has announced the professional desktop computer of the smaller company. The Acer Veriton N is a oriented equipment to small and medium size enterprises and companies who want to save space in the office without sacrificing the outstanding specifications, and features very compact dimensions of 19 x 19 x 3.2 inches that make it a very attractive and minimalist. Furthermore, due to its size it is possible hang the computer after the monitor and create one computer all in one very ergonomic.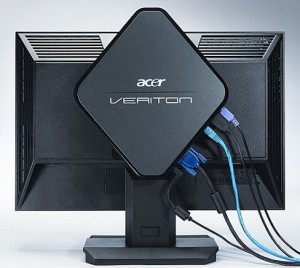 Undoubtedly the highlight of the Acer Veriton N is its design. In a square with rounded corners, its size makes it a very useful tool in offices that have a very small space. Within the model find a Intel Atom D525 dual-core processor, with a power of 1.8 GHz With Hyper-Threading technology, we can use this computer as if we actually had four processing cores. This processor has been used on numerous occasions within the field of netbooks, and to perform most office tasks without problems. The computer's RAM is 4 GB.
Furthermore, storage of Acer Veriton N is one of the less attractive sites of the device, as it will be only 250 GB hard disk format (and with a speed of 5,400 revolutions per minute). In the field of connections will have a fairly complete set for the size of the computer that includes six USB 2.0 ports, a VGA port, a Gigabit Ethernet port or HDMI port to connect the computer to a TV or monitor.
Nor will miss an entry and an audio output to connect the speakers. The system chosen for this computer is Windows 7 Professional. In addition to the capabilities of encryption or data virtualization including advanced this system, Acer has strengthened the device with a number of solutions to improve the security and the deployment of these devices.
To improve security, we will have the suite Acer ProShield that allows, among other things, create a virtual disk to store our important data. It also includes a tool to permanently delete the data that you do not want to keep.
In the field of security also highlights the possibility of including a TPM 1.2 chip (Trusted Plattform Module), which adds an additional layer of security at the hardware level and maintain protected data from external incursions. Another solution is included Acer Veriton ControlCenter, an application that helps users to improve energy efficiency and saving time. Finally, through Acer Client Manager provides the deployment of such equipment in the professional network and remote management.
The Acer Veriton N is now available at a price of 435 euros.