The Asus S46 Ultrabook are a new S Series Manufacturer. The top cover is made of a single piece for providing high strength and durability of the machine. The design is elegant, with a brushed metal finish. The touchpad is quite large and, thanks to the Smart gesture, the control interface recognizes various actions of the user. Accompanied by a gum-type keyboard, designed to be ergonomic and comfortable to use, even during extended typing sessions. These ultrabooks are fairly lightweight, weighing two kilos, with a 14-inch screen.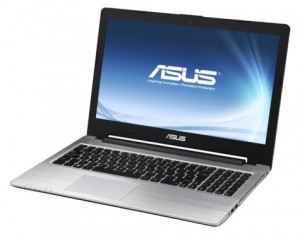 The display is an LCD with LED backlight with an aspect ratio of 16:9 quite bright; offers a resolution of 1,366 by 768 pixels. The processors are Intel Core third generation. Depending on the configuration can be an Intel Core i7 or i5. The buyer can choose the preloaded operating system version, which can be present in the modalities Windows 7 Ultimate, Professional or Home Premium, or a Windows 8 Release Preview. The amount of RAM is also depending on the configuration chosen, even if the machine supports up to 8 GB of modules of DDR3 type to 1.600 MHz.
The graphics card is another important feature in a computer, especially for those who plan to use it for practice games or multimedia applications. However, the buyer can choose. If your needs are basic, will suffice with Intel HD 4000 integrated graphics. But if you prefer a dedicated, may opt for a NVIDIA 6435M GT.
In an ultrabook could not miss hybrid storage system, based on a hard drive and a solid state drive (SSD). Besides, there is still room to put an optical drive, in this case, is a Super-Multi DVD burner. And these Asus computers measure only 2.1 inches thickness. Its have a 10/100/1000 Ethernet port and capacity of wireless communication via Wi-Fi to the specifications 802.11 b/g/n regarding connectivity, incorporating everything you need. There is a USB 3.0 port, two USB 2.0 ports, a VGA output for an external monitor, a HDMI digital video output to connect to a Full HD TV, and a combo audio jack.
The rechargeable lithium-ion battery is four cells and it has a capacity of 2,950 mAh. The manufacturer has included an interesting feature called Instant On throughout the S series, designed to ensure that the machine leaves the state of suspension and this list in just two seconds when the user decides resume their tasks. If the computer is on standby and the battery charge is below five percent of capacity, the system saves the data automatically. Its dimensions are 348 by 248 and by 21 millimeters. Asus S46 Ultrabook will be retail price starting at 620 euros.