The Logitech Harmony Touch is a very advanced touch remote control. You can control up to 15 different devices, such as TVs, A/V receivers, Blu-ray players, DVD players, audio players or media libraries. According to the manufacturer, the product can work with more than 225,000 devices from over 5,000 brands. It is ergonomically designed with a slightly curved to fit better in the palm of your hand. It is quite light, much like a smartphone, in fact, weighs 163 grams.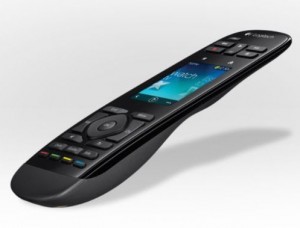 The color touch screen display of 2.4 inches provides a resolution of 320 by 240 pixels (QVGA). You can display up to 50 icons, so avoiding the endless trips through the menus. Nor need to memorize the number of channels. Simply slide your finger to enter the favorite options, both television channels, such as games, movies and music. The user can select the icons from those available in the existing list on the website myharmony.com or create your own icons with custom images. The numeric keyboard appears on the touch screen when the user desires.
However, to be able to start using the Logitech Harmony Touch, you must update it on the Internet. This command must be connected to a computer via USB and synchronize it in an account of the site myharmony.com. Once there, follow the step by step instruction. There is a basic method of setting where the system provides recommendations based on the user devices added to your account.
In contrast, advanced users can configure the Harmony Touch manually. In any case, before starting the process, it should be pointed all computers to be controlled with the control, indicating the type of device (eg TV), brand and model.
It is a remote control activities based on universal, in the sense of a series of commands to perform a specific function. An activity would "watch a movie"; which means that the command should order the multi-channel receiver, the TV and the Blu-ray are lit in the correct order, using the right connections, and make the Blu-ray start reproduction.
Apart from the touch screen, this command has several special buttons: on/off, start screen, reverse, panel with arrows, favorites, DVR, OK and 4 colored buttons (red, green, yellow and blue). All these buttons are backlit so it can be seen in the dark.
Connects to computer via USB (it has a micro connector, and cable is included in the package). It is compatible with PC and Mac; supported operating systems are Windows 8, Windows 7, Windows Vista, Windows XP and Mac OS 10.5 or higher. No batteries required, but incorporate a lithium ion battery that is charged via the cradle supplied as standard. Provides a range of about 72 hours and takes 4 hours to recharge. The control measures 56 by 186.5 and by 31.7 mm. The retail price of Logitech Harmony Touch amounts to 180 euros.