AMD completes the new generation of 200 series dedicated graphics cards with the launch of the Radeon R9 290, second version with "Hawaii" core and cropped R9 Radeon 290x edition but with a very interesting price to specifications.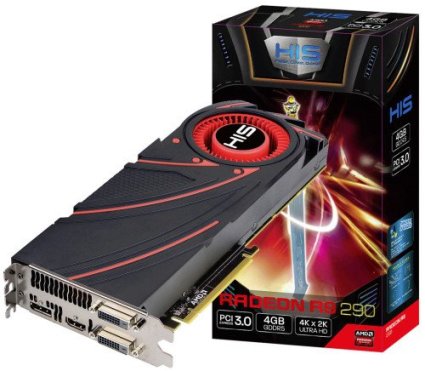 Cousin of the Radeon 290x R9, R9 290 shares its most features, starting with the same core graphics Hawaii, BCM 1.1 architecture, manufacturing by TSMC 28-nanometer processes, 6,200 million transistors, the memory interface of 512 bits or dedicated 4GB GDDR5.
AMD itself has maintained the speed of 5GHz GDDR5 memory for a memory bandwidth of 320 GB/s. Also the number of ROPs (64) units, as well as DVI, HDMI and Display Port outputs, and support for 4K screens, DDMA Audio, TrueAudio and Video Codec Engine (VCE) (with H.264, MPEG-4 ASP, MPEG-2, VC-1 and Blu-ray 3D).
The Radeon R9 290 supports multimedia APIs DirectX 11.2 and OpenGL 4.3 and also the new mantle of AMD, in addition to the proprietary technologies of the PowerTune firm such as AMD, AMD Eyefinity (up to 6 monitors simultaneously) or AMD Crossfire connecting up to four cards.
The card connects to a PCI-E 3.0 slot and need the same power of her older sister (two PCi connectors 8 and 6 pin) as its TDP stands at 300W. One of the few criticisms that can be made to the Radeon R9 290, and along with the usual (too much) noise level and heat emission of these Radeon superior to its competitors from NVIDIA.
In addition to power, its other strong point is its price: $399 as a benchmark for a development on the evidence, outperforms (106%) to the GeForce GTX 780 which costs $100 more and not so far away (97%) of the R9 290x which costs $549.
A card can be considered as perfectly with all current 3D games at high resolutions with filters enabled and can have a good life cycle.