While still remains secret possible launch of the rumored iPad Mini, the competition that comes from Android still lining up in their trenches. We met two really cheap devices, the Nexus 7 and Kindle Fire HD, which marks a new frontier for the low side of the table to the hour conceive what should be expected of a tablet with popular vocation. And in this sense, the Acer Iconia Tab A110 comes on top of that trend.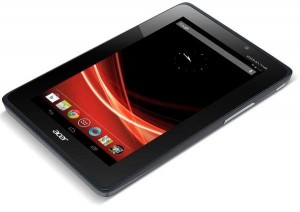 The proposed device just made official the Taiwanese multinational is a device that, for unos225 euros approximately, bring the latest operating system from Google, Android 4.1 Jelly Bean, users interested in a equipment with seven-inch screen and resolution of 1,024 x 600 pixels. The device is really powerful: integrates in it's inside the new quad-core processor from NVIDIA, the solvent Tegra 3.
As the Nexus 7, this Acer Iconia Tab A110 has not been interested in installing a camera to the back of the device, leaving a single sensor in the front; it is capable of carrying video calls with high-definition quality, as well as capturing photos of two megapixels. One of the most attractive points of the Acer Iconia Tab TO110 is in the connections.
And it is that this tablet has a high definition output miniHDMI, as well as microUSB and a slot for memory expansion via microSD up to 32 GB cards. On the merits of integrated storage, the Acer Iconia Tab A110 offers 8 GB and 1 GB of RAM.
This Acer Iconia Tab A110, comes to weighing 390 grams- whose weight is 390 grams – a mark on the scale really light considering the type of device that we have in our hands, has not yet been contextualized in the calendar, so for now it is not known exactly when it was put up for sale. When you do, you will see with other devices that are moved in the same tier as well as with other more powerful, such as the Samsung Galaxy Note 10.1, which proposes a combination much more muscular size with a rather more generous.
In any case, the enemy to beat the Acer Iconia Tab A110 will be the Nexus 7, no doubt. At least, the visible enemy, that the invisible for the time being does not live beyond what is quoted by the rumors. We refer, as stated above, the iPad Mini, that device could come up with a panel of 7.85 inches and a resolution of 1,024 x 768 pixels which will borrow some features of the first two Apple tablets.
It would also show a very thin thickness of only 7.9 millimeters, according to the rumors. Unfortunately, no one knows when the stores would this terminal or if you want if it is part of Apple's actual plans.