The Apple TV already a thing, but people always want more, and why not a real television set on behalf of the giant of the material "the apple"?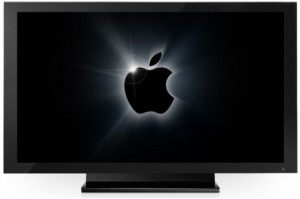 If the latest rumors announced a Apple HDTV television set, and the fact that Apple was working on it for years, 2012 has unfortunately not been the year to see the arrival of such a device. But gradually as we approached the end of the year, rumors have intensified, and today there seems to be no doubt that Apple is working on a next device, which is a television.
According to a report from Focus Taiwan – reported by AppleInsider, pulling information from Foxconn, the Taiwanese industrial group specializing in the manufacture of electronic products and already producing most of the components for the Cupertino firm's, it would be testing several designs hardware for Apple TV.
The rumor indicates that current Apple TVs are tested with screens ranging from 46 inches to 55 inches. Of these LCD panels could come from either Japanese or Taiwanese companies.
That being said, rumors indicate that Sharp may be the first supplier of LCD screen for Apple, which would plunge the firm into the television market. The reasoning is that the president of Foxconn, Terry Gou, holds shares in Sharp.
So when can we expect to see unveiled Apple TV, or even mentioned? The report emphasizes that the CES 2013 (Consumer Electronics Show) – fair dedicated to technological innovation in consumer electronics, could be a likely option, but Apple has always avoided this show.
The company generally chooses to host their own events, but reveal the Apple TV at CES would most likely be a good time to "destroy" the competition if it was to be presented to the largest trade show of electronics consumer in the world.
As for when the devices are actually available, the article states that it is "unlikely" that the shipments begin "at the end of 2013". If this is true, we could not get our hands on Apple TV by 2014 i.e. … an eternity!
It should be noted that this is only a rumor for now. None of this has been confirmed and Apple is no exception to the rule of good to keep secret the existence of a potential Apple TV. However, Apple is always organizing an event at the beginning of the year, and the Apple TV could be on the menu of this appointment…