Not long ago that Archos presented its new family of tablets, the G9, 8 and 10-inch models with capacities of 8 GB to 250 GB, the latter with a thickness of 3 millimeters and an additional weight of 160gm.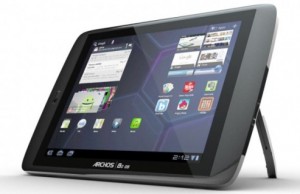 The Archos 101 G9 of 8 GB and 10-inch screen has many features that make it a very interesting product. It is a light product (649 grams) and thin (12.6 mm) in the rear has a folding prop allowing us to keep the tablet in portrait if you want to enjoy a movie, for example.
The screen is HD with a resolution of 1280 × 800 pixels and capacitive touch technology provides bright images from various angles. At the top of the screen shows a camera of 720 pixels and a built-in microphone for video conferencing.
As for connectivity, it has a mini HDMI port through which we connect to our HD TV. In the part spatula has a tab that slides to engage in the same place and without noting the Archos G9 3G Stick, which is the option for 3G offered by the company. The Archos 101 G9 has WiFi b/g/n plus Bluetooth and GPS.
Inside the Archos 101 G9 has dual-core ARM Cortex A9 processor running at 1.5 GHz that Archos ensures that it is capable of overcoming the Nvidia Tegra 2 which is seen in the Motorola Xoom.
The Archos tablet runs with Android 3.2 Honeycomb, which is the version of the Google operating system designed for tablets. There are a total of five screens that you can customize to your taste and the tablet includes some pre-loaded applications, such as Android Market, YouTube, Google Mail, music, calendar, Maps, or Video, as well as the popular Angry Birds. The only thing to remember here is that there are still many applications that need to be optimized for Android Honeycomb as most of the programs for Android are designed for smaller mobile screens.
The management of multimedia files is easy because a PC with Windows 7 detects the tablet as a storage device. We must take into account the history of Archos with audio device manufacturers, so playback and media management is very good.
As for battery life, one of the most striking of these products is 4.5 hours of uninterrupted video, which is the activity that consumes battery.
This is ultimately a product easy to use, with a large screen and good quality, not as fast as other products on the market despite its dual-core processor, but with an unbeatable price.