There are many large screens for advanced users, and ViewSonic wants to capture part of that market at a reasonable price, 299 euros. In its 27-inch Viewsonic VX2753mh has focused on the high-definition LED technology without incorporating wireless technologies with other models on the market, and that makes the price reduced.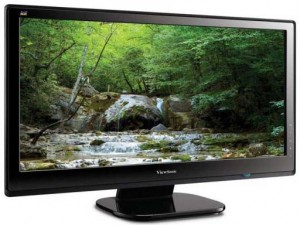 With a size of 658x480x212mm not the narrower market monitor, but it is somewhat annoying. It sits on a small base and it fits comfortably in the majority of the desktops. In addition, it offers an option that allows you to remove the stand base and the monitor is equal to the head.
ViewSonic VX2753mh has a nice design with a glossy black finish. There are four physical buttons to the right of the monitor in addition to another power; all are elongated, are well spaced and are easy to operate, considering it is out of sight.
Another plus point of this monitor is a flexible viewing angle, which allows it to be tilted between five and 20 degrees so it can be used comfortably. The screen also has an anti-glare technology, ideal for places that have a lot of light on the ceiling.
The ports located on the back of the monitor are easily accessible in the center. The Viewsonic VX2753 features two HDMI ports and a VGA connector. But it shows the lack of a USB port, useful for connecting peripherals such as keyboards or mouse, and more if to be used with a MacBook Air.
Among the technical characteristics highlight a 30.000.000:1 contrast ratio, full HD resolution of 1920 × 1080, a 16:9 ratio and a response time of 1ms.
The device incorporates rear LED lighting, offering rich colors and deep blacks and also makes the monitor is 40% more efficient than other 27-inch screens. But also incorporates Eco mode reduces monitor brightness in low conditions light, which helps to reduce consumption.