Archos presented at CES 2013 an interesting and innovative Android device, which may be something we've never seen as such. It is the Archos TV Connect, which is nothing other than a kind of adapter to any TV that aims to turn it into a Smart TV with Android.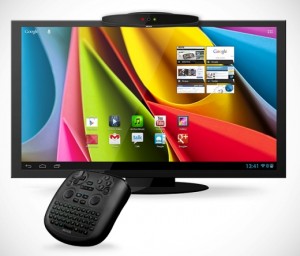 If you were thinking of Google TV, you're wrong, because it comes with Android 4.1 version of the interface for tablets, which is something that was to some extent is strange and not so functional that can be use in a TV, but the good thing this gadget is that it is certified by Google, so you can access all of their content and services, including Google Play.
This TV Connect is integrated by a receiver placed on top of the TV and that also has a webcam for videoconferencing, SD card slot, HDMI and USB port, and a wireless controller called TV Connect Remote with full QWERTY keyboard and directional pad similar to the controls of the Xbox, which will surely pointer to navigate through the interface for Android tablets and play video games available in the Google Store, which will be able to map the buttons to suit each title.
Archos is expected to launch this device in February at an approximate price of $130.