The Spanish company Energy Sistem begins the year by incorporating new models to its Energy Tablet family. It is a question as two Android tablets that ensure great performance thanks to the combination of 1.6 GHz dual core ARM Cortex A9 + GPU Mali-400 Quad.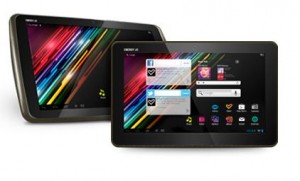 Among the common features shared by both devices found the incorporation of the latest generation of the operating system Android 4.1 Jelly Bean, 10.1″ capacitive multitouch screen and the aforementioned duo processor graphics chip.
It also features two cameras, one on the front, ideal for video conferencing and a rear of 2 megapixels to take pictures and videos with ease thanks to its lightweight design.
As far as connectivity is concerned, these two models include wireless N so we can enjoy a high speed Internet connection, HDMI 1080p Full HD output (capable of playing all formats), memory expansion cards through Micro SD-HC/XC and USB Host function which will allow us to connect devices such as flash drives, hard drives, keyboards and mice. Also, new, both have Bluetooth 4.0 system to synchronize smartphones, headphones, speakers or other Bluetooth devices wirelessly.
If we focus on the particularities of each of them, Energy Tablet s10 Dual has a 10.1″ TFT-LCD display 16:9 widescreen (1024 × 600 pixels) and 8 GB of internal memory that lets store up to 32 hours of video or 4,000 songs. It also incorporates two stereo speakers to enjoy the best sound in our favorite movies and music.
Meanwhile, Energy Tablet x10 Dual has a 10.1″ TFT-LCD IPS screen 16: 10 high definition (1280 x 800 pixels) with a viewing angle and exceptional image quality. It also has an internal capacity of 16 GB, which is expandable with up to 64GB cards.