Asus launches new 3D LED monitor under the name "VG23AH", a 23-inch 3D IPS.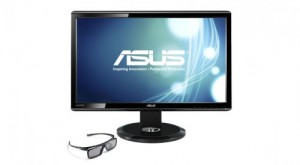 It has a lateral extent of 178 and vertical wide viewing angle with 80,000,000:1 also incorporates exclusive Splendid Video Intelligence technology that provides completely HD visual.
The LED-backlit IPS display is available with an ergonomic design that allows you to rotate, tilt and height adjustment for comfortable viewing experience with minimal color shift.
The VG23AH can switch from 3D to 2D instantly via a designated key combination for 3D visualization.
The key combination can also be used to access six video preset modes: scenery, theater, gaming, night view, sRGB and standard. The monitor also comes with built-in 3W stereo speakers.