Distinguished with CES Innovations Design and Engineering Award 2013, the device ASUS VARIDRIVE combines a 8X DVD recorder with a 'docking' station that houses USB 3.0 ports, HDMI, VGA and Ethernet. It is an ideal device for adding connectivity to equipment such as ultrabooks and tablets thanks to a USB port.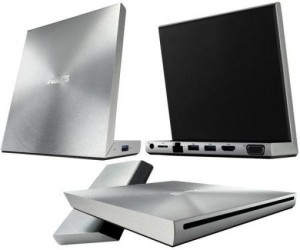 Its rotary design allows the vertical and horizontal location and the ultra-thin form of 15 millimetres favors the comfort in the transport. The device incorporates a metal chassis finished with a concentric pattern that has its predecessors in other products of the firm, such as the Zenbook.
The ASUS VARIDRIVE integrates a optical recorder SuperMulti 8X DVD and four USB 3.0 ports for data transmission with a speed 10 times higher than the standard USB 2.0. One of the rear USB 3.0 ports (type B) is reserved to connect the unit to the host computer and the remaining ones are for connecting peripherals (the side USB 3.0 also load external USB devices faster).
It also has an HDMI port and a VGA for connecting displays and an Ethernet port for network connectivity faster and more stable. It is a device designed to complement equipment not have many connectivity options and an optical unit due to its small size.
Silver in color, its universal adapter is very compact (100V-240V AC, 50Hz/60Hz). The dimensions are 202.7 mm x 140 mm x 15 mm and weight 452 grams. And the supported operating systems, Microsoft Windows 7 Original and Windows 8. Its price is 209 euros.