HP has decided to renew its range of printers for the home environment HP Photosmart. Besides equipment HP Photosmart 5520 e-AIO and HP Photosmart 6520 e-AIO, the U.S. company has also introduced the HP Photosmart 7520 e-All in One.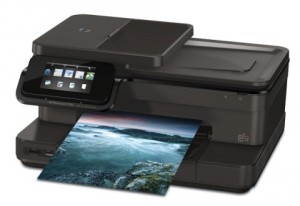 As in the case of younger siblings, this equipment has the basic functions of printing, copying and scanning. Some of its key capabilities are the ability to print double-sided series or wireless connectivity for printing over the Internet. The new HP Photosmart 7520 e-AIO will be available throughout September at a price of 200 euros.
The printer HP Photosmart 7520 e-AIO has print speeds of 14 pages per minute in black and white and 10 pages per minute in color. As with other new models Photosmart family, this printer will have duplex (double-sided) standard. As for the print resolution, quality reach 4800 x 1200 dots per color page and 1200 x 600 dots per page in black and white.
We are faced with a printer that is positioned one step below what we can already achieve with printers more geared toward the professional field, which for example includes a decent paper capacity of 150 pages. HP also wanted to highlight the presence of a touch screen of 4.3″(about the size of display of the Samsung Galaxy SII, as an example). Thus, most of the functions are accessible without using the computer. The guidance to escape from the PC to carry out the work grows with your wireless connectivity and Wireless Direct, as well as the compatibility with network printing solutions such as e-Print (developed by HP itself) or Google Cloud Print (one Google tool that uses the platform of its Chrome browser).
We still have no data on copy speeds, but most likely have a speed similar to that achieved with printing. As is usual in these cases, we can reduce the document to 25% or increase it to 400%. As for the scanner, reaches a scan resolution up to 2400 points per page (and an optical resolution of 1200 dots per page). Scanned documents can be converted to files of type JPEG, TIFF, PDF, BMP and PNG and may make your submission by e-mail without having to go first to the computer.
Despite assuming a jump over the previous two printers, this printer will continue to have compact dimensions that allow you to install the printer at home or in small offices (this computer capabilities make it an attractive solution for SMEs that do not have a large workload). The HP Photosmart 7520 e-All-in-One will be available during the month of September for a price of 200 euros.