This German brand has a long tradition in manufacturing headphones. In his catalog contains models of very various categories. This time, it is lightweight headphones intended for use outside the home. The Beyerdynamic DTX 501P feature a supra-aural configuration, where sound is triggered from the top of the covers.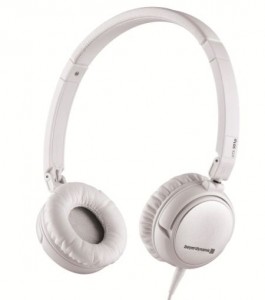 It is a closed design, but the enclosures are of small size, although with a diameter sufficient to cover the ears. So, it gets left out of the noise environment, both street traffic as crowded stations or busy offices. It is clear its vocation to meet the needs of music lovers on the move.
The pads are soft touch, and the tiara is extensible, so it can adjust well to any head size. The central part of the headband is covered in the same material with leather look synthetic pillows. In addition, it is foldable, so much so that fit in the flat zippered pouch with form of semicircle that comes standard. The truth is that it occupies very little space in our backpack or briefcase. It is also very light, weighing 120 grams including the cable (105 grams without it). Available in two colors: black or white. In this way, you can combine, or contrast, with the MP3 player, with the mobile phone or with the tablet.
The headset DTX 501p make a show of the good quality of the products of the company based in Germany. The sound is full of detail and the bass have body and depth, which is especially necessary when it comes to playing compressed music. The frequency response, ranging from 20 to 20,000 hertz, it is the most common in the field of digital music. Endure a maximum input power of 100 milliwatts and sensitivity reaches 104 decibels.
The cable, which has a length of 1.3 meters, is connected to one of the two shells. It is finished in a stereo minijack connector (3.5 mm) gold plated. It is the most common type of connection in MP3 players in mobile computers and laptops. It's a long enough to use these Beyerdynamic with a portable audio player, which is usually carried in a pocket or pinned to the shirt. However, users who feel that this length is too short can always purchase an accessory that costs about 16 euros; is an extension cord with 3.5 mm minijack in black color which adds another three feet.
It can be used on aircraft, since the manufacturer has included airplane adapter in the package. Of course, the sound will greatly improve over those provided by airlines, and become infinitely more comfortable than the button. The Beyerdynamic DTX 501P are available in stores at a retail price of 80 euros.