The new DSR models of Mediagraphics are the most advanced equipment duplication Blu Ray, DVD and CD. The equipments come in towers whose settings are 1-16 recorders with SATA technology.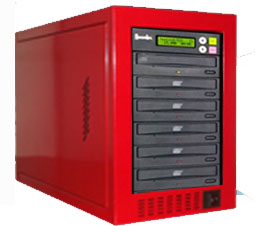 In the same equipment with multidrive technology, the users can double both DVDs and CDs in different formats. The BluRay versions duplicated BluRay, DVD and CD in all its formats.
The duplication equipments have a CPU or controller Athena and burners are Pioneer SATA, LG and Samsumg, every generation that guarantee more than 50,000 hours of normal production.
The units in its native form are Stand Alone that is, working autonomously without requiring to be connected to any PC. It operates through a screen with 4 buttons for straightforward operation.
Also optionally, is equipped with a hard disk that allows users to store up to seven DVDs or performing music track selection for CD duplicators.
Features:
The device is a stand-alone duplicator autonomous Pioneer DVD-R/CD-R with SATA technology.
Configurations 1-16 recorders.
Composed by duplicators Pioneer, LG and Samsumg of latest generation, SATA, which guarantee the quality of duplication.
It has an easy to read display and simple. The instructions or steps are listed in the first line. The copying status and possible errors are displayed in a second line.
It has selectable recording speed.
You can check the surface of the DVD or CD before copying, preventing downtime.
Of all ways copy and verifies simultaneously thus avoiding any error in the surface of the DVD-R or CD-R. This feature ensures a doubling identical to the master.
Copying from DVD-R, DVD-R/RW, DVD+R/ RW and DVD-Dual Layer.
It works both as a standalone and connected to a PC or Macintosh for mastering projects.
The hard drive is optional and allows different master file user or DVD image and select extract audio tracks from different CDs for compilation into a new one.
Simulation has a mode of duplication that can run before the actual duplication. This ensures stability and quality of the recording.
It allows to make Updates easily settling through the DVD/CD player.
The DSR Series can be configured according to customer requirements.
Warranty: 1 years.