Although it took a little more than expected, Sony has confirmed that it is available in stores Brave: The Video Game, a title based on the new animated film from Disney Pixar's, Brave (untamed), which is currently succeeding in theaters.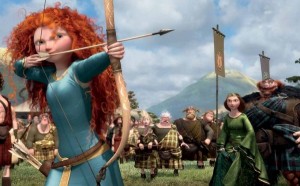 Brave: The Video Game, based on the adventures of the film and its own protagonist, Merida, a heroic and skilful goalie who will have to overcome a thousand dangers based on skill, intelligence and bravery, attributes that will be tested the player throughout the game. In addition and in order to enjoy a game more immersive and real, Sony has decided to Brave: The Video Game is compatible with PlayStation Move, the peripheral that allows to to simulate the use of different objects, thus being able to set aside the traditional joystick.
A traditional part of the story mode in which the player progresses through the levels seen in the film, including memorable characters and enemies, Brave: The Video Game features a special mode called Archery Field, where competitions are held of this specialty and where the player must show his skill with PlayStation Move. Brave: The Video Game is now on sale in shops and department stores for PlayStation 3 and since makes more time for Xbox 360, Wii and Nintendo DS. This version of PlayStation 3 is priced at 40 euros.
Brave: The Video Game will take the player directly to a world of magic in the Scottish Highlands, where Merida will face the most ferocious beasts. This skillful Warrior will do whatever in order to control its own destiny. So Mérida not hesitate to challenge an ancient and sacred custom of the Lords of the land: the enormous Lord McGuffin, the surly Lord Macintosh and moody Lord Dingwall. This will unleash chaos and fury in the kingdom. All this bower of betrayal, friendship and courage will Merida to discover that is capable to uncovering their skills and great intelligence.
The game will also have to go slowly learning, overcoming challenges, puzzles and facing increasingly powerful enemies. Although these games are made considering a rapid consumption and not boast particularly spectacular graphics, it does serve to entertain the whole family and especially the little kids.
Brave: The Video Game as tape directed by Mark Andrews and Brenda Chapman, is full of classic humor that characterizes the Pixar animated films, although it is curious that, having been described in cinemas for "all audiences", the console version has been labeled with PEGI +12, which means that their consumption is not recommended for children under 12.