Just a few weeks before released the new version of Microsoft operating system Windows 8, developers are still preparing its applications to fill the Microsoft apps store and get ahead in the race that can make this new software platform in the case it becomes successful. Although many of these applications are still in a previous state, we have selected five of the most interesting tools that can be found at the moment in the store of Windows 8.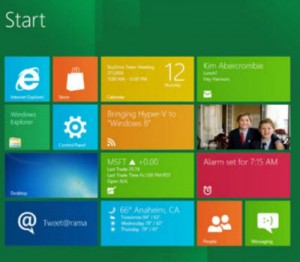 Soundtracker Radio
If you are a music lover, this is your app. Thanks to Soundtracker Radio can tune a lot of radios online users using this tool (Soundtracker has version for desktop browsers and mobile devices such as Android or iOS). For now, the Windows 8 app only has the function of listening to playlists that users have made over 20 million songs, while the function of creating your own radio station is not available. The program provides the ability to change songs and anchor your favorite radio interface to Windows 8.
OneNote MX Preview
The Notebook of Microsoft updates to Windows 8 with a very attractive design, with the presence of a wheel with the different features available to access with a click. This program allows you to write notes quickly and store it in the cloud automatically. Some of the options include the possibility of OneNote are uploading photos from your computer or upload it directly from the web camera, insert tables or create different lists. Notes can be divided into different sections to organize more agile. In short, a good tool with an attractive interface and with a good margin development.
Music Maker Jam
If you like to mix music or just having fun trying to make your first steps as a DJ this app allows you to mix different sounds to get the perfect rhythm. The controls are very intuitive and the program allows the user to save the project. That yes, miss the possibility to convert our projects to any audio format that we can use in other programs.
Travel
If you're planning a trip, Travel is a very useful tool with which visual and decides the fate. Includes panoramic photographs of a large number of attractive cities throughout the world, and facilitates the search and booking flights to get there. In addition, it also includes a database of Kayak of the major hotels in each city; with the possibility of organizing it by price and number of stars (all hotels have a description and a map). A great way to whet your appetite for the next holiday and book the different services (for reservations you can access the various sites for booking flights and hotels).
MetroTwit
Although Windows 8 is integrated in a fairly comprehensive way with Twitter through the contacts app, it is likely that at some point you take missing to be able to access your Twitter account directly from the main interface of the system. One of several clients who have already appeared before the emergence of the official Twitter app is MetroTwit. This tool shows you in simple two-column structure recent tweets from your contacts or references that you have received, among other options. Of course, you can also launch new tweets and insert images taken from the camera. Finally, it is an interesting alternative to the future official app of Twitter.