Do you remember that we have been talking these days of possible launch of a Google computer? Well, finally the Google Chromebook under the brand name of the search engine has arrived. It is called Chromebook Pixel and we discussed it below.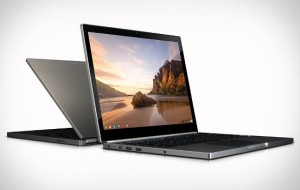 Although I think it is more expensive than we might expect because the price will be at around U.S. $1,300. The Chromebook Pixel will feature a display of little less than 13 inch touchscreen with a resolution of no less than 2560 x 1700 pixels. In terms of storage space in the cloud.
Google's computer will give you free up to 1TB in the cloud of the firm; Google Drive. But if you prefer the physical storage, then you can choose between the options of 32GB and 64GB.
No doubt with a performance like that, and with the touch screen computer can compete both in the segment of laptops and tablets. So when compared to Apple's flagship model, the iPad get 239 pixels per inch, a very good figure that is very close to the 264ppp of the Apple tablet.
In terms of its core Chromebook Pixel will feature an Intel i5 dual core processor with 1.8 GHz and 4GB RAM. In terms of connections will have integrated one USB 3.0, two USB 2.0 ports and a slot for SD and MMC cards. What do you think?