Samsung does not want to neglect the home segment and has launched the Samsung HomeSync, a media player that offers much more, wanting to become the center display and synchronization of multimedia content in our house, thanks to its internal hard drive with a capacity of 1TB storage and content synchronization unit with which we can assign a private space in the internal memory of this gadget for each family member, with separate username and password to access it.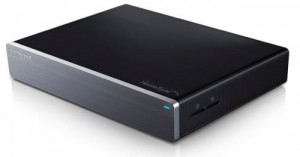 This option is the most interesting part of the HomeSync and other options such as the Energy Smart TV Box or Sony Personal Content Station, as it allows up to 8 different users have their own space on the hard disk to store different media and this simultaneously synchronize with their mobile devices or obviously different from a TV display with support for 1080p playback.
Technically this is a content server that its interior is a dual-core processor at 1.7GHz, with 1GB RAM and 8GB internal memory for the operating system in a SSD drive.
As for connections have a Gigabit Ethernet port, support for Wi-Fi (a, b, g, n), two USB 3.0 ports and one HDMI output for connecting compatible televisions or screens.
If you were wondered which is the operating system that moved this interesting device, could be none other than Android, so its potential is very large, since we have access to the PlayStation Store and install all applications and games available for the platform.
It is expected that the HomSync begin marketing the next month of April, although it is not known what will be the price set for sale.