The Logitech company is about to launch on the market the Washable Keyboard Washable Keyboard K310. According to its creators, as well as dusting keyboards "traditional", this model can be cleaned with a good soaking, and it is ready to dive up to 30 feet of water. And it dries quickly with the handy drain holes on the back.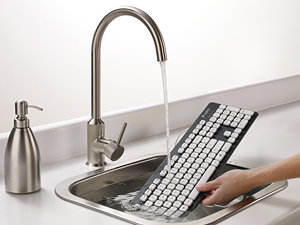 Yes, we must keep in mind that it is only possible to hand wash using soap and a soft cloth or sponge in warm water below 50° C, without putting it in the dishwasher without using abrasives, alcohol, solvents or strong detergents.
Laser printing and UV coating ensures that the font of the keys will not wear or for the use or by washing.
The original keyboard will go on sale in October at a price of 40 euros.