The D-Link DIR-505 is one of those devices designed to solve several problems. In this case, the device bulged more or less the same as an air freshener of wall and can help us much if we accumulate enough electronic pottery at home.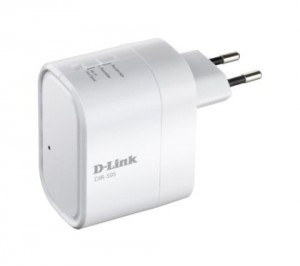 On the one hand it is a charger compatible with equipment that loads your battery through a USB port. This payload format is catching on almost all mobile devices such as phones or tablets. Most of the chargers of these devices are no longer a cable with a port at the end, but that consist of two parts. On the one hand we find an adapter that plugs into the network and converts the current to suit our devices. In addition, a USB cable that plugs into the Adaptor on one side and on the other to the device.
This format is very handy because you can use an adapter for many different devices, but as a tradeoff. To consist of two parts, is easier to lose.
But the D-Link DIR-505 is not a simple adapter. Its main function is to help us connect multiple devices together. One of its most interesting features is to amplify the WiFi signal. In many homes, router is far from some of the devices. Not all houses are distributed on one floor and we can not always put the router in the center of the house. Therefore, it is usual that the signal sometimes not properly reach all devices.
With this device we can solve much of this problem. If the signal is not able to reach the house, we can connect the D-Link DIR-505 in a distant outlet or used little, like a hallway. The device includes WiFi signal and amplifies it, for devices that do not receive well can navigate better by Internet.
The other interesting feature of this device is to create home networks. The USB port which has not only used to charge batteries, but can put the contents of the computer that plugged into the network. For example, if you connect a disk drive, a memory stick or a USB port to your computer, you can access your content wirelessly. In this way, we could see a film that was stored on the hard drive on our tablet or phone. It can also be accessed from a computer.
To access from a mobile phone or tablet need to install an application on your phone or tablet. It is free and provides the manufacturer, D-Link. Called D-Link Shareport Mobile and is available for devices running Android as well as iPhone or iPad. What is not free is the device itself, but the price is not too high for all the possibilities: 60 euros.